Features
9 Thoughts: Rok Cup Florida Winter Tour at West Palm Beach
I'm going to start a new blog this year after each major event I attend with nine or so thoughts that sum up some of the events that didn't get covered during the race weekend. I know I can only cover so much during a weekend, but it's going to a chance to reflect on a couple days to look back and think about all that happened.
Kicking off the 2018 season at the Florida Winter Tour has been the norm since CKN started in 2012, but this year is different. Instead of two weekends at the same track with the same series managers, we have two completely different programs on two different tracks and it was obviously noticeable. Following up the new SKUSA Winter Series, lots of people were comparing what they experienced in Homestead and what was happening in West Palm Beach at the Rok Cup Florida Winter Tour.
But nonetheless, it was still a damn good weekend of racing, with solid entries in the main categories. Here are my ten thoughts on the opening round of the Rok Cup Florida Winter Tour in West Palm Beach.
---
Push back bumpers used…but they need some sort of penalty moving forward
At registration, all of the drivers in the Rok Mini, Rok Junior, and Rok Shifter were presented with the pieces for the pushback bumper system, free of charge. Rok Cup USA officials have heard the call from racers for the past year now and while they didn't introduce the penalty system that goes along with the bumpers, they wanted to see how they worked in order to introduce their own set of rules in the future.
While it was great that the first step was taken, the drivers, especially the Juniors, took advantage and used their bumpers like normal, like bumper cars. My request would be to introduce a small penalty, instead of the normal 10-second penalty that has been used in Europe, so this way at least drivers will think before running into the driver ahead of them. Maybe a 1-second or 3-second penalty.
I think it would be a much better sample for the system if drivers knew there would be penalties.
43 Mini's and they provided by far the best wheel-to-wheel racing
As the close of registration loomed on Thursday, it was clear that a number of last-minute entries into the Mini Rok category forced the organizers to split up the class for official practice, qualifying, and the heat races. The initial number was 45 entries, but it slipped to 43 by race time.
A stink was raised by a number of karting dads about the random selection for the two groups and after listening to a number of complaints, officials decided to please everyone and combine the session and the time…giving all drivers an open 20-minute session to do their qualifying. Some drivers really enjoyed the full session, doing as many as 19 laps, while the majority did between ten and fifteen.
After that, the split up heat racing was awesome. Multiple heat winners and constant battles were by far the best racing throughout Friday and Saturday and the Sunday Final didn't disappoint either, with Carson Morgan and Connor Zilisch, two of the hottest Mini drivers in the USA, going toe-to-toe amongst a group of eight drivers racing for the lead every lap.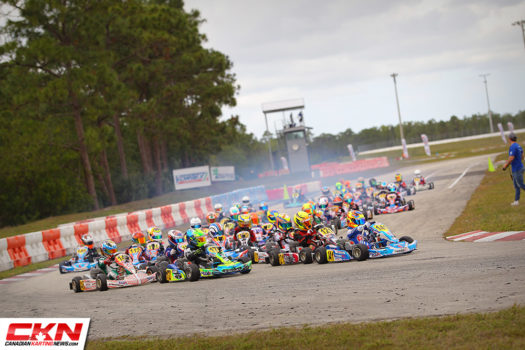 Only 4 drivers at PSL and they have two victories taken away
I was very surprised to walk around the paddock on Thursday and notice that under the Team PSL Karting tent was a mere four drivers, three of them with factory race team ties.
A powerhouse when it comes to just about any race, PSL still delivered on track with two drivers, Ryan Norberg and Marijn Kremers, finishing first in their Finals, albeit they both received post-race penalties, while a third PSL driver, Thomas Nepveu was in the running the Rok Junior Final, running as high as second.
The PSL/BirelART package is been strong just about anywhere you go in North America and no doubt will be a full house again soon.
Everyone teams up on Ugochukwu
From Qualifying up to the PreFinal, Ugu Ugochukwu was the dominant force in Rok Junior. However when the Final rolled around, it was obvious that nearly all of the front runners knew they needed to do something to keep him behind and at any opportunity in the opening laps, they pounced on the Koene USA driver, who was making his return to North American karting.
During the red flag session, I noticed a number of the drivers discussing how they had to work together to keep up with him while Ugo quietly sat beside his go-kart. And even after all the challenges, he battled in the Final, he was still lightning fast, falling as low as eighth before powering back to finish second and posting the fastest lap of the race, which was three-tenths of a second quicker than race winner Tyler Gonzalez.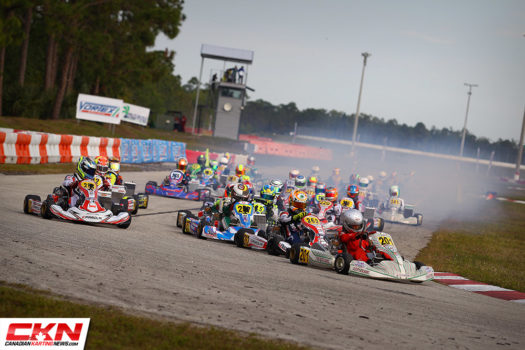 The best race I've seen Wickens drive
I've been watching Robert Wickens jump back in a kart to race on a number of occasions since 2012 but this weekend was by far the best I've seen Robert race since he was a full-time kart racer. Since switching from Rotax DD2 to Shifter, Wickens has found a new edge, that by far suits his driving style. The former DTM driver for Mercedes is about to start a new venture in Indycar alongside fellow Canadian James Hinchcliffe at Schmidt-Peterson Racing, which means he won't have much time to race karts from now until September, but hopefully, he can return for that Rok and the Rio and maybe even the SuperNationals again.
On the topic of Wickens, I love that he treats a kart race as training and preparation for whatever professional car he is driving. When the pushback bumpers were introduced for KZ in Vegas he said to me "I'm actually really glad. When I race karts, my goal is to keep my nose as clean as possible and treat my kart like it's my car, and that means no front contact." I think that is advice that really needs to be considered as we move into this new pushback bumper system and as drivers use Karting as a stepping stone to formula car careers.
Lammers fails to show up
I was extremely excited when we heard Bas Lammers name was on the entry list and Goodwood Kartways/Intrepid Canada had struck a deal with the former world karting champion from the Netherlands. However, after all our press and even some communication with him, he failed to show up. The only thing we heard was that he missed his flight in, and that was where communication broke down.
While Lammers was missing, the racing in Rok Shifter was as exciting as we expected, with the BirelART duo of Robert Wickens and Marijn Kremers leading the way, while a number of other contenders, including Austin Garrison, AJ Myers, Mathias Ramirez and Rubens Barrichello, kept the pressure on the leaders all weekend long.
Here's hoping for another great field of shifter racers when the series resumes in a months time in Ocala.
Leist passes 70 Kart's in heat races
I gotta give him credit. Arthur Leist by far passed the most go-karts on the weekend. He was unable to post a respectable time in Qualifying and wound up dead last in Rok Senior. Starting from the back of the grid, avoiding the opening lap melee's the occurred in every heat, the young driver from Brazil passed a whopping 70 karts in his three heat races, finishing seventh, ninth and fourth. He completed the drive back to the lead in the PreFinal and I was even preparing the headline in the Final when he seemed to have built a small gap to Ryan Norberg in the early stage of the Final. However, after some hard racing with Norberg, he wound up second on the podium, only a lap away from overtaking eventual race winner Eduardo Barrichello.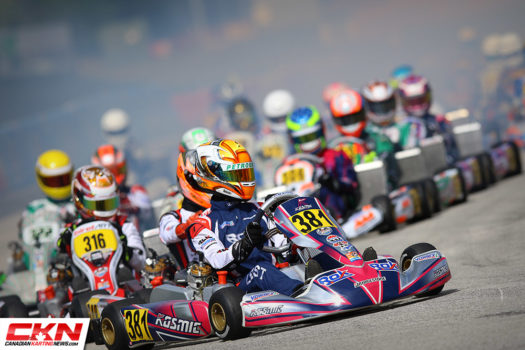 USA drivers on top of Mini Rok
The entries at the Florida Winter Tour have always been very international and every countries pride is always proudly on display, but one thing we noticed after the Mini Rok Final was how the top-11 results were all drivers from the USA. It goes to show just how strong the future of USA drivers are coming up through the ranks.
Not so sunny sunshine state
After flying in on Wednesday morning, a cold front rolled into Florida, which has been much of the case this winter for the sunshine state. Waking up Thursday, it was a dismal 3°C and throughout the day that cool just didn't go away. From there, it did warm up a little bit and the sun even made a brief appearance on Sunday afternoon, but no doubt this crazy winter of weather in North America is not what anyone is used to expecting when racing in Florida. Here's hoping it's a little warmer in Ocala.
Next up for myself will the Challenge of the America's in Phoenix, Arizona. I'm excited to get back to COA after covering all three rounds back in 2015.