Features
2015 Rotax Grand Finals Team Canada Driver Analysis – Part 1
The weather was perfect for this years Rotax Max Challenge Grand Finals as drivers from around the world converged on the Kartodromo International Algarve in beautiful Portimao, Portugal. The high speed kart track played host to the Grand Finals for the second time in 2012 and provided some stellar racing all week long in all four categories.
For Team Canada it was a rough week at the annual Rotax meeting, especially compared to 2012 where Canadian drivers earned three podium appearances along with runner-up in the Nations Cup. While the results may not showcase the efforts of our Canadian drivers, each of them have nothing to hang their heads over. Each driver gave it their all and proudly represented Canada to the best of their ability on and off track.
Once again Canada was one of the best outfitted teams at the Grand Finals, with each member proudly wearing their Canadian colours all week long. We thank our sponsors for helping keep Canada one of the best looking nations every year at the Grand Finals.
With eleven drivers on Team Canada this year, here is a break down of each driver did and and our thoughts on how their week went in Portugal.
Part 1 features our six drivers that advanced to the Grand Finals in their respective classes.
---
---
Scott Campbell, Rotax DD2 Masters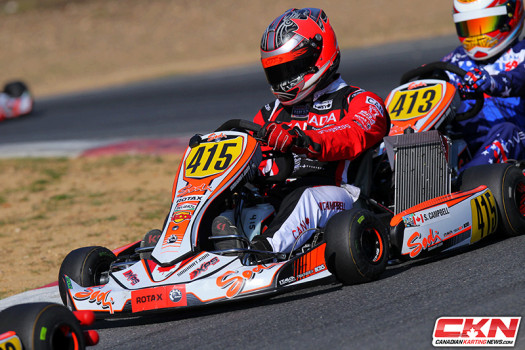 Qual: 12th
Heats: 3/6/7, 9th
PreFinal: 12th
Final: 6th
It definitely wasn't the week Scott Campbell was expecting when he arrived in Portugal for his record eleventh Grand Finals. While he showed great pace all week long, it wasn't quite enough speed to be the leaders. Campbell also struggled with an engine he claimed lacked straight-line power and even had his exhaust replaced after noting a crack following his qualifying session.
The one thing that Campbell displayed brilliantly was his ability to perform at the Grand Finals, no matter the situation. Campbell has always been strong at the Grand Finals events and his experience was evident in Portimao, even after a season of very little racing and competition.
Taking home Canada's top result (he crossed the finish line in seventh, but was elevated to sixth following the exclusion of second place Luis Schiavo), Campbell can be proud with the overall achievement.
---
Tyler Kashak, Rotax DD2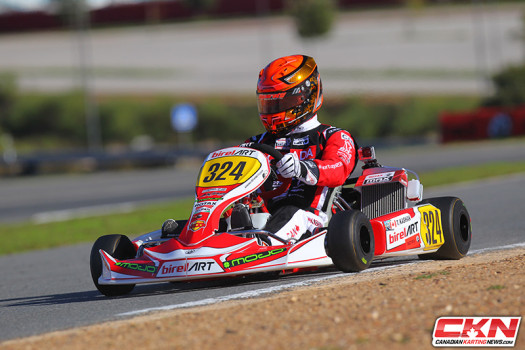 Qual: 15th
Heats: 9/9/7, 12th
PreFinal: 19th
Final: 7th
Tyler Kashak nearly missed the Rotax Grand Finals altogether after missing his initial flight to Portugal with an issue with his passport. But after sorting everything out, Kashak arrived a day and a half later and it was smooth sailing from there on out.
Kashak impressed so many last week in Portugal and exceeded the expectation many had for him.
After qualifying fifteenth, Kashak kept himself out of trouble in the heat races, something many first-time Grand Finalists have a tough time doing. Three top-ten heat races ranked him twelfth for the PreFinal that featured the most intense racing of the weekend for the DD2 class. Falling to nineteenth in the PreFinal was the only time Kashak really fell backwards all week, but he kept his head up and rebounded in the Grand Final.
Racing in the heart of the action, Kashak worked his way forward early. Into the top-ten after the opening laps, some incidents ahead of him and some great passing saw Kashak elevate to fourth place at the midway point of the race. Racing with the likes of Rubens Barrichello and many stars from the Euromax Challenge, Kashak remained unintimidated and crossed the finish line in a hard earned and well deserved seventh place.
---
Jeff Kingsley, Rotax DD2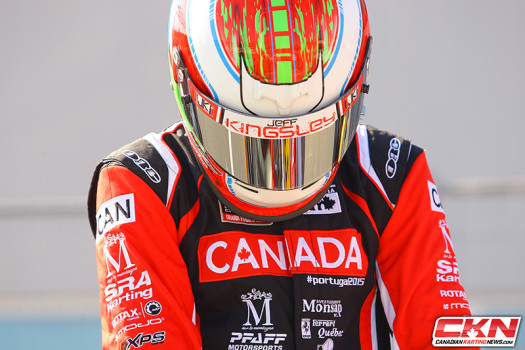 Qual: 13th
Heats: 6/7/9, 11th
PreFinal: 34th (DNF)
Final: 18th
In his third straight appearance at the Rotax Grand Finals, Jeff Kingsley once again impressed, utilizing a conservative approach and quietly managing himself well inside the top-15. From Qualifying and through the heat races, he led the way for the Canadian drivers in DD2 and looked like he was en route to improving his best overall finish at the event.
However, it all came crashing down in the ruthless DD2 PreFinal on Saturday, finding himself involved in multiple incidents before the first lap was complete, eventually retiring and forcing himself to start the Grand Final from the tail end of the grid.
Had it not been for an opening lap crash that held him up, falling well behind the pack, Kingsley could have had a shot at the top-ten. His pace was fantastic as he charged forward eventually working his way up to eighteenth at the finish line.
---
Fred Woodley, Rotax DD2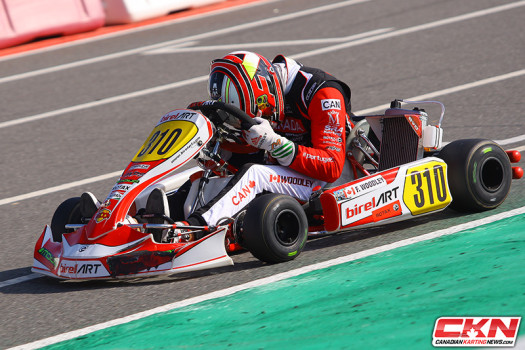 Qual: 34th
Heats: 11/28/16, 33rd
Last Chance: 6th
PreFinal: 20th
Final: 21st
Everyone including Fred Woodley knew that topping his very impressive fourth place result from last years Grand Finals was going to be a daunting task. An up and down season in North America followed suit in Portugal where Woodley showed great speed, but lacked a little patience when it came to the racing, often finding himself in trouble.
Qualifying right in the middle of the pack, Woodley survived heat one, but found trouble in heat two and even a strong run in heat three wasn't enough to advance to the Final without the Last Chance Race.
Lining up fifth on the grid full of many drivers who had the pace to race in the Final it would be a quick pursuit that involved all kinds of action. Woodley managed to avoid the trouble and plant himself inside the top-six, but it was a nail biter as pressure mounted on the final laps as the pace at the end of the day really dropped off. Holding on, Woodley scored the final transfer spot and advanced to Saturday's Final races.
Racing alongside former Formula 1 driver Rubens Barrichello, both drivers worked their way forward in the accident plagued PreFinal where Woodley would eventually get the best of the Brazilian and transition up fourteen positions.
The final was very much what we saw of Woodley all season long. Plenty of potential, but being involved in an early incident ended his chances of a solid result, finishing in 21st.
---
Stuart Clark, Rotax DD2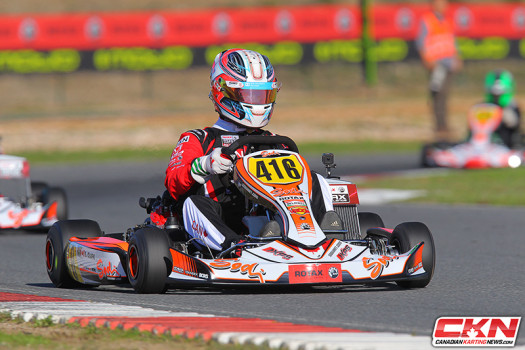 Qual: 24th
Heats: 20/30/12, 36th
Last Chance: 6th
PreFinal: 33rd
Final: 21st
Announcing his retirement from karting at the end of this season, Stuart Clark closed out his impressive career at the Rotax Grand Finals, his fifth appearance at the annual event.
It started out well for Clark, fast in official practice and while he was hoping to be ranked a little higher than twenty-fourth in Qualifying, it was still a strong start.
But when the lights went out to kick off the racing, Clark struggled to find the gaps and avoid karts spinning in front of him, often finding himself in trouble and with many bent parts on his SODI chassis. Salvaging a twelfth place effort in his final heat race helped keep him towards the front of the starting grid for the Last Chance Race where Clark avoided any possible drama. After sliding into sixth, he played it very conservative to avoid any issues, claiming the final transfer spot to Saturday.
Clark made it all of four corners in the PreFinal, crashing hard into the road block that was created ahead of him. Recovering the Final, Clark moved forward to close out his week and his karting career with a 21st place effort.
---
Luc Sauriol, Rotax DD2 Masters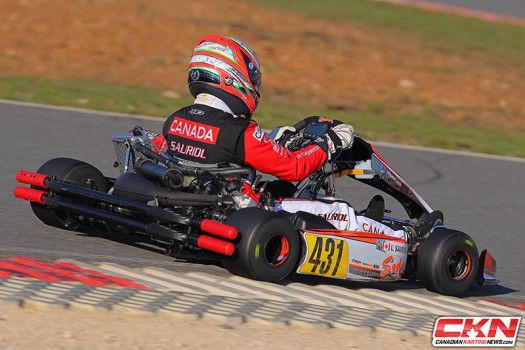 Qual: 36th
Heats: 12/10/24, 25th
PreFinal: 23rd
Final: 30th
It was a relatively quiet week for Luc Sauriol in Portugal. Flying under the radar, he remained within the fast group of DD2 Masters, but didn't quite have enough to challenge with the ultimate leaders, something we were expecting of him.
Qualifying in the middle meant he would have to fight in the heat races and he did just that in his first two on Thursday, moving up from eighteenth on the grid to twelfth and tenth place. But heat three he found trouble and could only manage a twenty-fourth, but thankfully it was enough to directly transfer to Saturday and avoid the Last Chance Race.
Moving forward in the Final Sauriol was having his best run of the week until disaster struck. Noticing a vibration coming from the rear, Sauriol was forced to withdraw as his rear wheel began to come loose ending a drive that could have seem him sneak into the top-ten.
---
Stay tuned tomorrow as we have a look at the five remaining Canadian drivers who competed in Portugal.