The end of a calendar year gives us the chance to not only enjoy a short break after a very long season, but also look back and celebrate the year of spectacular kart racing. For those of us at CKN, we really do enjoy selecting these award winners each year but we do ask that you keep in mind that these are still just for fun and a way for us to give back, noting some significant achievements along the way.
We will announce the winners in three parts, leading off today with Canadian Event of the year, Up and Coming Driver, New Helmet Design of the year and Mechanic of the year.
---
Canadian Event of the Year:
Winner: ASN Canadian National Karting Championships
There is no question that this years ASN Canadian National Karting Championships was a Jose Bautista bat flip of a home run. The revamped Mosport Kartways facility at the Canadian Tire Motorsports Park welcomed nearly 200 karters from across the country for our most prestigious race of the year. The racing was hair-raising and white knuckled from start to finish and the atmosphere was unlike many of the past years Canadian Nationals.
While there was no black out like the last time the Nationals visited Mosport, picture perfect weather helped keep the spirits up in the paddock as well and the Di Leo family, new managers of the Mosport Kartways facility, used their many years of Nationals experience to ensure it was an event put on for the drivers and families taking part. When all was said and done, ten new Canadian National Champions were crowned, including one in the Open Shifter category which made it's much anticipated return to the National Championships.
---
Up and Coming Driver:
Winner: Tanner Hamilton
With the introduction of the Champion Ron Fellows Karting Challenge (CRFKC) in Ontario we had the chance to take in a true regional program and check out some of the next wave of drivers looking to make the move to the National level.
One of the many drivers that stood out was Briggs & Stratton LO206 Junior driver Tanner Hamilton. Running a simple program in 2015, Hamilton focused his efforts in Ontario, competing in the CRFKC as well as the TRAK club championship at Goodwood Kartways and MIKA championship at Mosport Kartways. Winning all three was very impressive but Hamilton also entered the Canadian National Championships at Mosport and was right in the mix of the action. Winning a couple of the heat races and battling hard for a podium appearance, he ultimately finished in fourth place.
---
New Helmet Design of the Year
Nominees:

Didier Carre (LSDesign)
Taylor Gates (Lone Palm Design)
Ayden Ingratta (Lyons Design)
Justin Luik (Smart Race Paint)
Ryan Macdermid (Savage Designs)
Robert Wickens (Smart Race Paint)
Winner: Ryan Macdermid (Savage Designs)
Every year we are delighted to see the latest creations from some of the best helmet painters around the world right here at home. We are also blessed with some of these world renowned photographers to be located right here in Canada.
Selecting our favourite helmet design of 2015 is always a challenge. Since everyone, and we mean everyone, has a different opinion in what makes a helmet special, this award is a little biased to us. Some are big fans of detail and airbrushing, while others prefer hard lines and simplistic design. Needless to say, there are so many helmets to choose from, it is near impossible to select six nominees, let alone one winner.
But our favourite helmet from 2015 comes from Florida-based helmet painter Savage Designs for his efforts in creating Ryan MacDermid's new lid. The Rotax Junior driver from Ontario was easy to spot with his bright orange and green helmet with Savage ensuring every detail was perfect. We were also very lucky to be present in Florida when Mike Savage presented Ryan with the helmet, explaining the tactics he used to create the masterpiece. It was a very special moment that Ryan could very well remember for the rest of his life.
An honourable mention also goes out to SMART Race Paint and DTM driver Robert Wickens. Robert's one-off helmet for the US Open of Las Vegas was a beauty!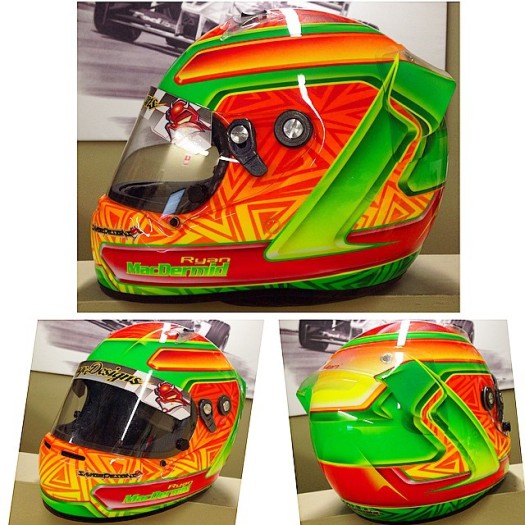 ---
Mechanic of the Year
Nominees:

Steve Amoureux (Samuel Lupien)
Brian Bettencourt (Intrepid North America)
Sylvain Clair (Jeff Kingsley)
Dale Curran Sr. (Dale Curran Jr)
Paul Kashak (Tyler Kashak)
James Treadwell (Jon Treadwell)
Winner: Brian Bettencourt 
Our list of nominees for the Mechanic of the Year could literally be endless. There are so many hardworking individuals, whether they be parents or full time mechanics, that help keep our sport moving and our drivers on track. But we still enjoy noting a few and selecting a winner because like every race, someone deserves to be on top at the checkered flag.
Working with the Intrepid North America race team Brian Bettencourt served as mechanic for many drivers this past season. He was in support of the Intrepid brand almost every weekend possible and undoubtably helped the team score three victories at this years ASN Canadian National Championships, including a massive Rotax DD2 win for Tyler Kashak and a Rotax Senior title for Marco Di Leo. Big Brian is very outgoing, hard-working and a friend throughout the paddock as well, willing to help almost anyone who asks. His love for the sport is also very pure, with a deep knowledge of local to national to international levels of karting, both current and historic.
Congrats Brian, you earned this one.
---
We will have our next four awards winners announced shortly, be sure to check back often.