11 Rotax Drivers Who Could Steal a Win at the Canadian Championships
It's Canadian Championships race week and racers from across the country and rolling into the Hamilton Karting Complex to begin their journey towards a National title.
There are over 200 entries thus far and we're sure a few more stragglers will add to the list before Qualifying officially begins the event on Friday. With 14 classes on the agenda, it's going to be a busy week and race organizers have split the schedule up into morning and afternoon groups. The Rotax portion will run in the morning while the Rok Cup classes will compete in the afternoon with the Briggs classes split between the two.
Yesterday we looked at 11 drivers who could be surprise winners in the Briggs categories and today we're having a look at the Rotax Max divisions, which along with five Canadian titles to award, six invitations to join Team Canada at the Rotax Max Challenge Grand Finals are up for grabs. Those tickets will go to the drivers who scored the most points between this weekend and the Canadian Open, which ran a few short weeks ago.
To view the official points standings after the Canadian Open, head over to the MaxChallenge.ca website or click here.
Here are eleven Rotax drivers who could steal a win this weekend at the Canadian Karting Championships in the classes that have more than 10 drivers.
---
Rotax Micro-Mini
Decklan Deonarine
James Bedard
Jackson Lachapelle
There is a really good crop of Mini drivers right now in Canada and we have four different provinces represented this weekend. Edward Kennedy has hopes of repeating as Canadian Champion while the likes of Antoine Lemieux and Jackson Morley are surely going to be battling him up front for the win.
Ilie Tristan Crisan locked himself on Team Canada at the Open with Lemieux, Rayan Ghandour, Kennedy and Olivier Chasse in a tight race for the second ticket this weekend.
But these three drivers could easily be considered more contenders than surprises. Decklan Deonarine is a rocket everywhere he goes but typically finds himself on the wrong side of luck. If he can keep everything in line, he very well could swoop in and steal the win this weekend.
Flying in from British Columbia, James Bedard enters as the 2022 Canada Final Micro Max champion and a race winner at the opening round this year. It may be a small step up to Mini this weekend, but he's not afraid of the speed.
Third, we have Jackson Lachapelle. Another driver who tends to fly under the radar with all the attention some of the drivers seem to hold in Mini. He's fast, has shown he can win at the Coupe de Montreal, and he's typically right in the thick of the action, so keep an eye on him this weekend.
Wildcards: Rayan Ghandour, Leo Da Silva, Olivier Chasse, Cole Medeiros
---
OUR WEEKEND PHOTO PACKAGE IS DISCOUNTED TO $100.00 – MUST ORDER BY FRIDAY
https://www.canadiankartingnews.com/store/2023-Single-Race-Photo-Package-CKN-Summer-Tour-p549348795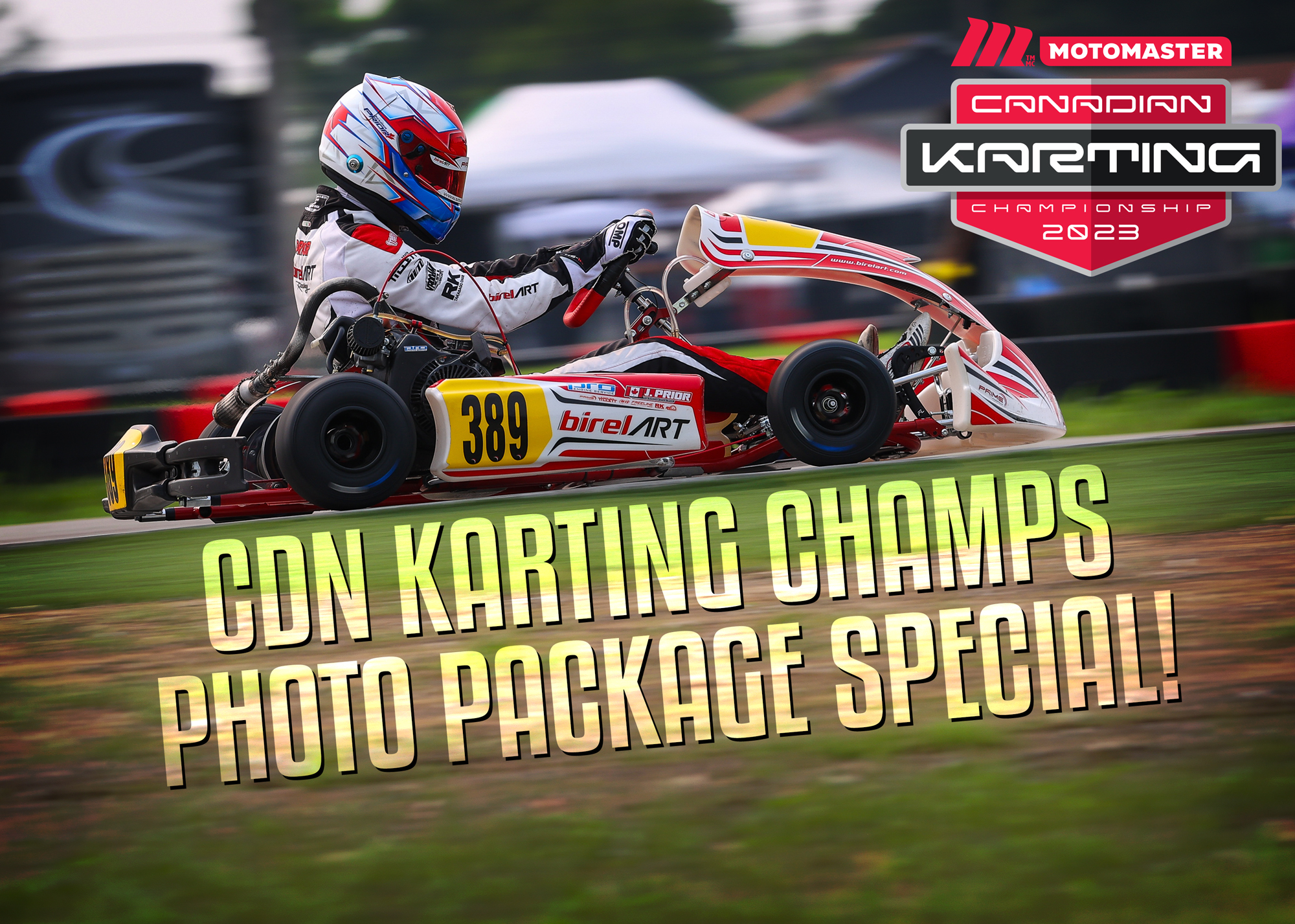 ---
Rotax Junior
Major Makovskis
Matisse Costantini
Christian Menezes
This Rotax Junior group this weekend is a little small, but given that it wasn't large at the Open it's not overly surprising.
Back in Canada after a trip to compete in the European Championships, Jensen Burnett is looking to defend his Canadian Championship title.
With Lucas Deslongchamps taking the win, he's already got his spot on Team Canada. Olivier Mrak, Antoine Lemieux, Olivier Pichette and Major Majovskis are separated by 47 points and with 250 up for grabs, the second ticket is wide open.
Speaking of Makovskis, he has shown great speed in a couple of Coupe de Montreal races this summer and really has been the only one to match Deslongchamps's pace. But he too is another driver who finds a lot of tough luck. He will need to put it all together if he wants to overtake the REM duo of Mrak and Lemieux in the points and stealing the race win could just do that.
Matisse Costantini is bolting on a Rotax Max powerplant for the first time this weekend but being at his home track, we don't expect him to take long to get up to speed. He's got a win under his belt at the CKN Dash for Cash and has shown he can handle both the dry and wet conditions on the new Hamilton circuit.
Finally, Christian Menezes is the defending Rok Junior Canadian Champion but had a tough week at the Canadian Open at ICAR. With a little more time to prep for the Nationals on the Rotax, he just might put it together this weekend and grab his second National title in as many years.
Wildcards: Olivier Mrak, Coco Chi, Anthony Raducanoiu
---
Rotax Senior
Nolan Bower
Ryan Maxwell
Timothe Pernod
Lucas Nanji
Ayden Ingratta
While Junior Max is a little small, Senior Max is packed full of racing-winning potential.
Laurent Legault was dominant at the Open while Patrick Woods-Toth is back in a kart looking for another title after some time in his US Formula 4 ride. World karting champion Joseph Turney is entered with HM Propela, but we've heard he may not race.
It was hard to narrow down who could surprise as many of the entrants are capable of taking the win.
Nolan Bower has been busy this summer, racing the Coupe de Montreal, MRFKC, Canadian Open and now the Canadian Championships. His pace has been there every race and he snagged a Coupe win at SC Performance and we're keeping an eye on him this weekend.
Back with vengeance, we know Ryan Maxwell is on the cusp of a big win. Yes, he was first to cross the finish line at the Open, but his push and run was too much in the eyes of the officials. So using that as a motivator, if he shows up with the speed he showcased on Sunday at ICAR, the field needs to take notice.
Timothe Pernod and Lucas Nanji have gone toe-to-toe at the Coupe de Montreal and both have shown tremendous speed but just lack in full weekend racecraft. If they are able to stay consistent and avoid the trouble they seem to always find, they have a chance at the podium and victory.
Finally, Ayden Ingratta is back in a kart after getting his first taste of car racing over the past few weeks. He is focused on Rotax Senior this weekend and really is more of a contender than he's given credit for.
In the race for the second Rotax Grand Finals ticket, Olivier Bedard has bowed out from second in the standings. This leaves Pernod, Nanji and Maxwell to fight for points and the invite to race in Bahrain.
Wildcards: Max Raymer, Ian Qiu, Frankie Esposito, Marco Filice, Arnaud Sabourin, William Bouthillier