Here I am. The first race of the season. First race in Briggs Senior. I'm starting mid-pack but I've got the inside line into turn one. We pass the snow banks on the last turn of the formation lap, the green flag drops. Here we go! As we speed into turn one, I lift off the gas and get hit from behind. I skid backward into turn one, watching the kid, who qualified slower than me, drive over my brand new sidepod, I ask myself, "Man, how did I get here?"
I've always loved racing. My mom and dad would wake me up early on Sundays to watch Formula 1, then we'd watch Indycar in the afternoon. I was still in a stroller when I went to my first Champ Car race. I've been to dozens of races. Formula 1 in Montreal, IndyCar at Exhibition Place, IMSA Prototypes at Mosport and the Saturday night oval track races at Sunset Speedway.
I had my first go-kart race at age four. It was an indoor oval at Nascar Speedpark. The kiddie kart didn't go more than 10 km/h. But instead of just watching racing, I was behind the wheel, speeding around the tiny track, and it was incredible.
Whenever my family goes on vacation, we check for go-kart tracks were within 100 kilometers of the hotel.
As a kid, if it was a nice summery day, we'd head down to the lake. There's a family-friendly track there. Winter blues got you down? There's a great indoor track just a bit out of town. Karting was always for fun.
That all changed on the way down the escalator at the 2014 AutoShow. I saw the booth with a big "G" logo. They had a racing simulator all set up, and I just had to try it. My dad spoke with the man working the booth, while I played racecar driver on the simulator. That was the first time I met Daniel Di Leo. That "G" was the Goodwood Kartways logo, and my dad and I signed up for CRKC arrive and drive series.
Old Honda powered Intrepid karts with worn Mojo tires was how I got my start. Looking back, they might not have been that fast, but for my first time racing, it was amazing! My first practice session, I gave it full throttle coming out of the pits, flew through the two kinks, then as I approached the first braking zone, I cranked the wheel and slammed on the brakes. I was now pointed backward in my first ever session. Great start.
In my first race, I was running around in third place when I got spun, dropping me to sixth. Oh well, there's always the next time, right? The following race, I was running third again, got spun, and finished fourth. I went on to finish fourth for the next six races.
I was starting to get desperate for a podium. I started hopping curbs, divebombing other drivers and generally getting in trouble with the officials. I learned how easy it is to throw away an entire race with one bad move.
After an on-track altercation with another driver, I ended up having an off-track altercation with him. Punches were thrown, mainly at me, and I got yelled at by his mom. Looking back, I'm glad I kept my helmet on. While I'd never admitted it then, I was in the wrong. As a rookie without much patience or skill, I was trying to bully my way to the front. But watching that kid's mom scream at my dad for how I acted on the track made me realize that if I was going to race, it would be clean.
In my second year racing, I was more confident. I made fewer stupid mistakes and picked up 6 wins in 12 races, and I was strong in the wet. In 2016 I raced at Goodwood Kartways and Mosport Kartways. With some coaching and patience, I won two CRKC championships and was offered a spot on the Goodwood Scholarship Team as part of their driver development program. Now I'd have my own kart and make the step up to club racing.
But I was a rookie again. I had to learn how to drive a Briggs, but most importantly I had to learn to give feedback.
In Arrive and Drive, I just drove. Now we had to determine gear ratios, tire pressures, camber, caster and a bunch of other stuff I didn't understand. After just one club race, I was in my first regional event, CRFKC Round 1.
In practice, the kart didn't feel right. I didn't know if it was just cold tires, so I just kept my right foot planted on the front straight. I spun out of control approaching the fast turn one at Goodwood and saw my rear wheel fly past me, bouncing down the track. That may have been the issue.
My dad spent most of the day repairing the kart, with help from Big Brian, Daniel Di Leo and even Darryl Timmers pitched in. I made the pre-final, starting 41st because I had missed qualifying. But even finished in 28th, and it felt like a victory. Hours earlier my kart was a mangled mess, but with the help of some good people, I made it back on track. At the end of that day, Daniel Di Leo introduced us to James Treadwell, who would teach my dad keep the wheels on the kart.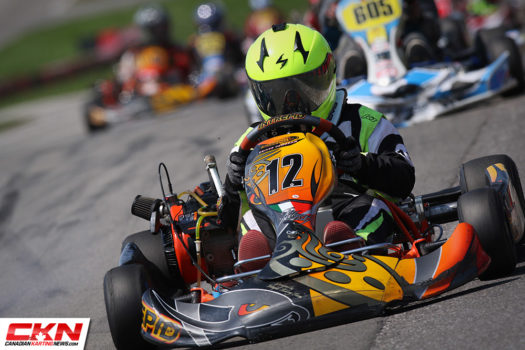 The next weekend we were back at Mosport, our home track for the year, but now under the VRS tent. James loved teasing my dad, promising to never let him forget sending me out on track with only three wheels tightened.
We were surrounded by great guys with experience that we could learn from. Jon Treadwell, who'd go on to win Nationals in 2017, became something of a mentor to me. I also made great friends under that tent and great memories.
Sunday mornings, the track would still be chilly from the night before. The tables inside, wet with morning dew. Most of the team was either asleep or still driving to the track. Those who arrived early were just setting up; a day-long battle against machinery, heat and other drivers. This little snapshot into race day is something I feel nostalgic about, only a year later.
All summer, I raced hard. None of the battles were ever for the lead, top-five or even a top-ten position. But we fought every weekend. Liam Woods, Michael Nalli and I would go three-wide into corners only wide enough for one, squeezing each other in the flat-out turns, trying to out-brake each other approaching the hairpin. It was great, and I was learning how to race, clean.
I spent my birthday and Thanksgiving with Treadwell's team. They became my racing family. Summer nights spent throwing old tires around a dark and empty paddock with my friends Keidon Fletcher and the Glover Boys, sneaking onto the track for foot races on the main straight. Being at the track always made me smile.
For 2018 we returned to racing at Goodwood, after a year at Mosport. We joined PRO and Darryl Timmers has been coaching me on how to improve my driving. I also moved up to Briggs Senior.
Two years ago, I was racing against kids in Arrive and Drive. Now I'm racing against 2-time Canadian National Champion Jon Treadwell. How did I get here!
Racing isn't just about podiums Victories are more than just the top step. A lot of racing is you against yourself. Setting faster times, improving your racecraft, gaining confidence. I'm just a rookie again this year, but I'd love to be competitive in Briggs Senior and to fight podiums. But for me, racing is just as much about spending time with my friends and family. Without that, a trophy is just an empty cup.
I'm looking forward to a fun and competitive TRAK season, which I'll be writing about on www.Demaras.com, and on CKN too! Big thanks to Daniel at Goodwood, Curtis & Darryl at PRO, and James & Jon Treadwell at VRS for always watching out for me. I'm looking forward to proudly representing my sponsors Scarboro Subaru, Laird Auto Body, KPMG and In Home Service on track this year.
– Daniel Demaras, #7
www.Demaras.com
---
Fifteen-year-old Daniel Demaras will blog his experiences for CKN throughout the 2018 karting season. Racing for Professional Racing Ontario, Demaras will compete in Briggs Senior at a number of events in Ontario, including the Champion Ron Fellows Karting Challenge. Want to learn more about Daniel? Visit his website, http://demaras.com.